Private Networks Overview
Private 5G: Beginning of Digital Transformation
A private network or non-public network (NPN), is a dedicated and exclusive network that provides wireless services to a specific enterprise for allowed consumers and devices. Enterprises have more control over data access, confidentiality, integrity, service levels, full flexibility in configuration, performance, upgrades, evolution, and security of their connected operations. All traffic types generated within a private network are processed locally, ensuring high security, data privacy, and latency-sensitive applications. 
Based on 3GPP standards, private networks can be deployed either as standalone networks operated independently without relying on a traditional national service providers or as a public network-integrated NPNs (PNI-NPN) deployed with the support of a national service provider.
What is driving the need for Private Networks today?
Need for dynamic application services that are customized/optimized for enterprise business using edge computing
Operation automation technology such as AI/ML-based self-healing, fault recovery, and scale-out/in of resources to significantly reduce the operational burden

Complete virtualized and cloud platform

 for network resources (network infrastructure, network functions/services, etc.) on-demand to improve the business agility and reducing network investment and operation costs
Adequate coverage, capacity, and handover functionality to increase reliability in data transmissions.

Capable of integrating and working with public 5G networks in order to ensure service continuity
Key Benefits
Data and business security - Private networks enable enterprises to have complete control of data
Ease of deployment with a compact cost-optimized network-in-a-box
Achieve guaranteed coverage and appropriate network capacity
Process data locally and filter out transient, temporary data
Enable localized services exclusive to employees in enterprises, such as a video conferencing service available solely to employees
Premium Quality and Full Coverage
Enhance Private Networks with Open RAN
Using disaggregated RAN with Private 5G provides additional flexibility; with disaggregated RAN a private network can be configured not only to specific enterprise needs but even to the needs of specific venues or locations.
Enhancing 5G private networks with open RAN delivers enables you to access important benefits such as ultra-low latency, high network availability, high device density capabilities, open and cloud-native platform, and a large volume of data aggregation.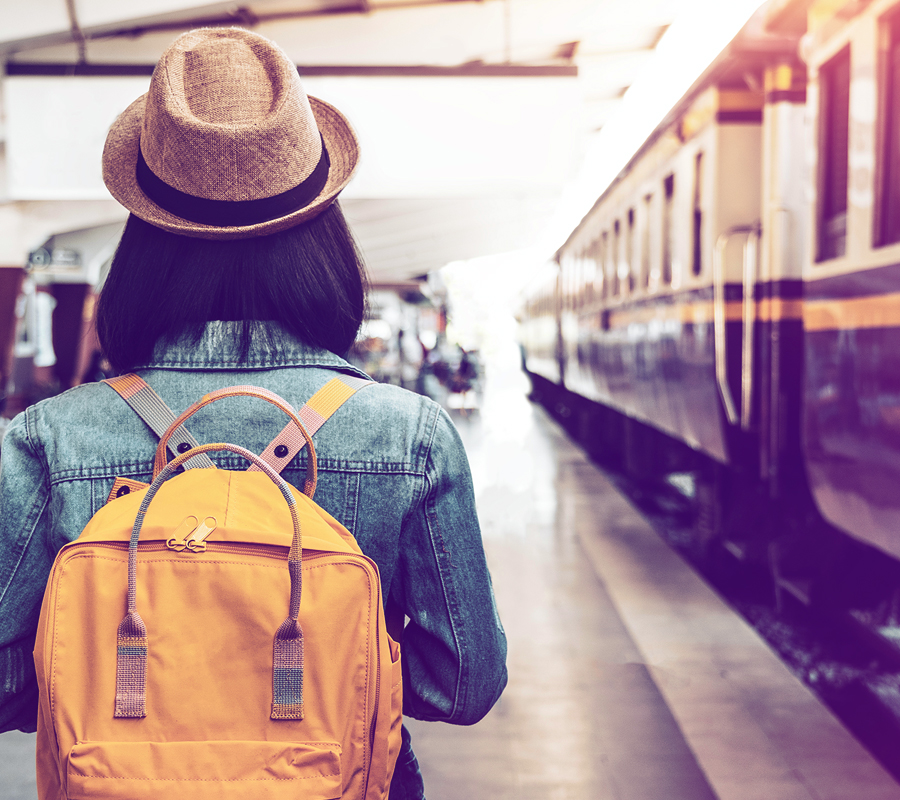 Why Radisys Connect LTE and 5G Protocol Software for Private Networks
Maximize Your Deployment Flexibility
Radisys LTE and 5G NR protocol software for private networks are based on Open RAN approach. With open interfaces, virtualization of RAN and support for compact 5G core stacks, we offer the unique ability to enable flexible deployment options, from compact deployments on premise to edge cloud or centralized deployments.
With the flexibility of disaggregated architecture and control/user plane separation, Radisys RAN and core network software stacks can enable integrated small cells of CU/DU with option 2 split and other combinations.
Our DU software stacks can work with 3rd party RUs in a DAS like distributed radio environment where multiple RUs can connect to a DU directly or through a switch or gateway. We offer open fronthaul gateway software as well to interwork between eCPRI based DU and CPRI based RUs.
Our software stacks support small cells hardware both in FR1 and FR2 spectrum for indoor and outdoor scenarios.
Multi-access edge computing capability for private networks can also be enabled leveraging a cloud-based architecture and integration with partner hardware platforms. With support for ETSI MEC architecture and workloads for RAN, UPF and voice/video processing closer to edge, Radisys enables powerful MEC offerings for enterprise users.
Open and Private at Once: Open RAN Solutions for Private Networks
Disaggregated RAN solutions inherently offer the flexibility to suit the variety of deployment needs in the case of private networks.
Read Article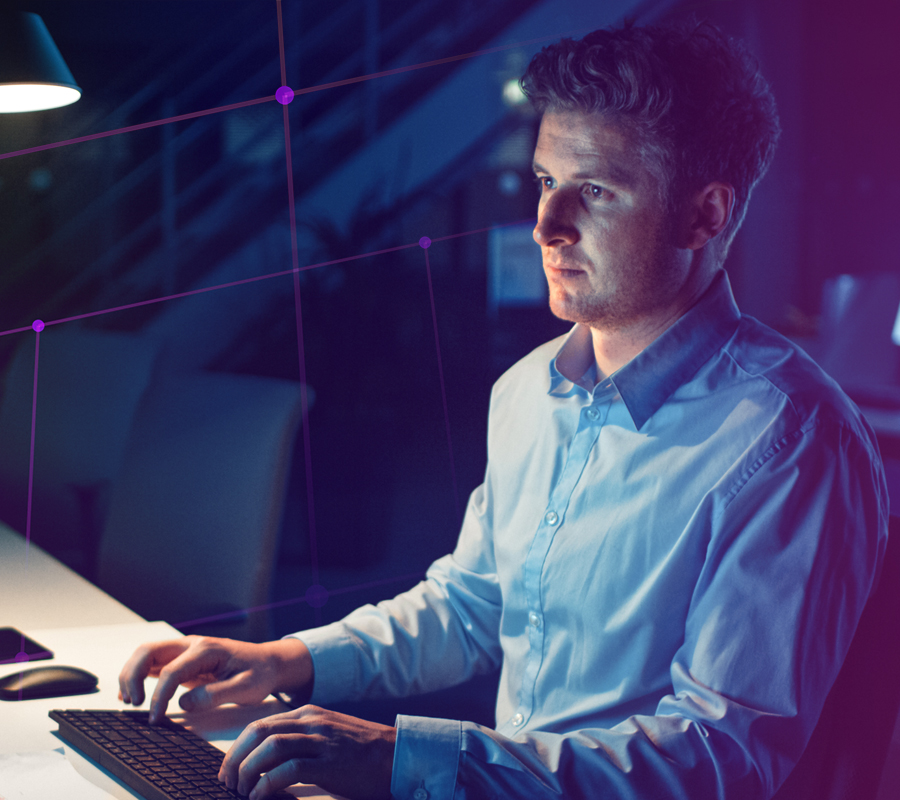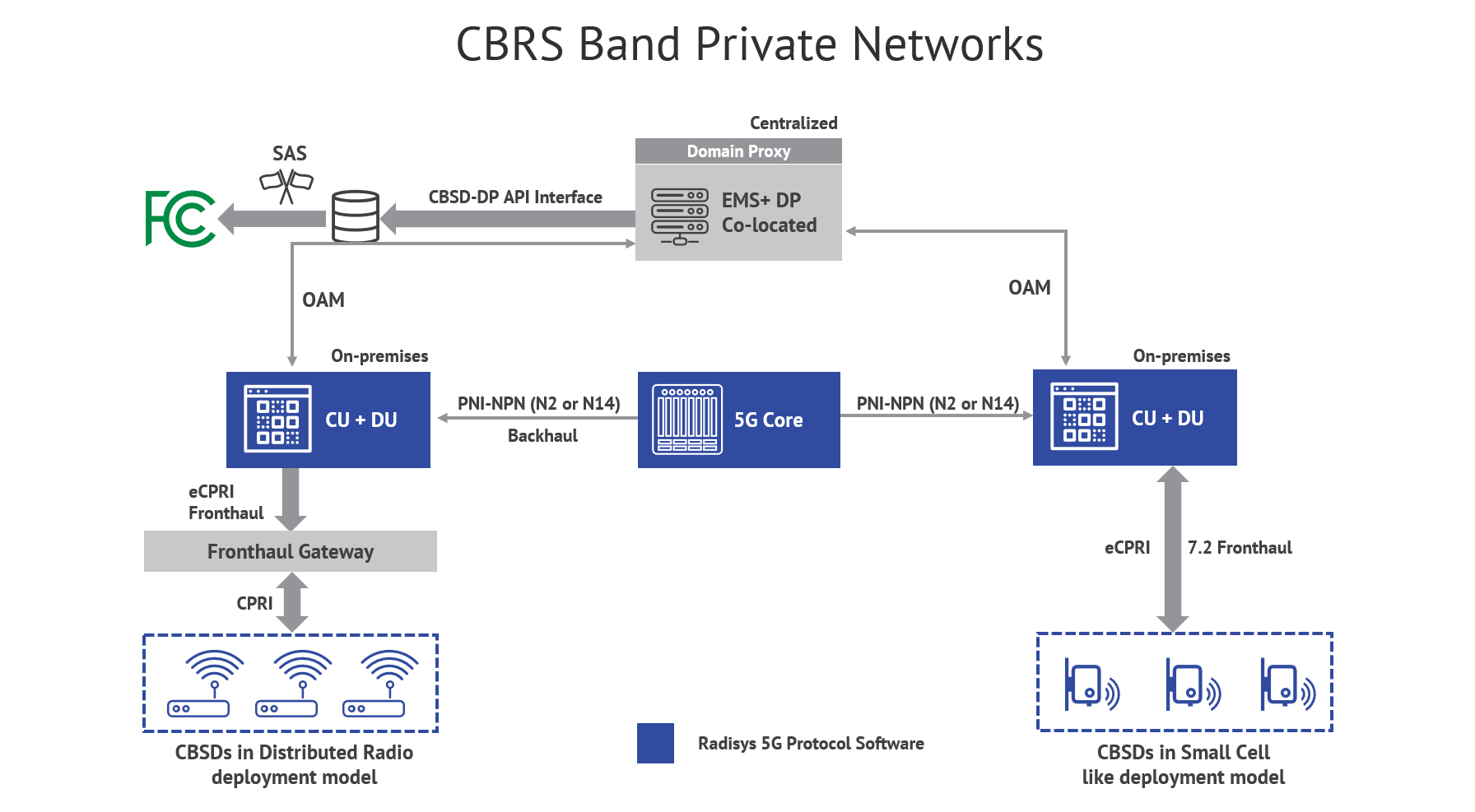 Flexible CBRS Deployment Model
Enabling CBRS Solutions with Radisys
CBRS is a radio-frequency spectrum from 3.5GHz to 3.7GHz that the Federal Communications Commission established in 2015 as a shared spectrum among three tiers of users: incumbent users, priority licensees, and generally authorized, which is lightly licensed. Defined for the US market, the CBRS band corresponds to 3GPP Band 48 and overlaps Band 42 (3400–3600 MHz) and Band 43 (3600–3800 MHz). CBRS enables a robust, LTE-like private network performance with the simplicity of Wi-Fi. 
For CBRS based deployments in LTE and 5GNR, we provide integration with small cells and DU's through SAS agent or a domain proxy. 
Radisys has also contributed an Automated CBSD Certification Test Harness to the CBRS Alliance for its OnGo certification program. 
Small Cells for Private Networks
For smaller coverage areas indoors, small cells solutions are suitable. You can choose from Radisys integrated small cells solutions or deploy disaggregated small cells solutions.
Small Cells Solutions